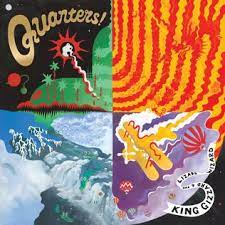 Heavenly
King Gizzard & The Lizard Wizard | Quarters - Audiophile Edition
HVNLP114DB
24/06/22
Limited 'Audiophile' edition black double vinyl
At some point in the last decade, the world's greatest living non-stop psychedelic rock machine hit creative overdrive. Music flowed from King Gizzard & The Lizard Wizard like lava - super hot and absolutely unstoppable.
Thankfully, Heavenly were on hand to help get the out there right out there, releasing ten albums by the band in less than five years.
Now, having been out of print on vinyl for years, the first three of those albums are getting deluxe reissues to help you blow your mind on your top of the range stereo. Or maybe blow your speakers, it's your choice.
2014's 'I'm In Your Mind Fuzz' and their two 2015 releases 'Quarters!' and 'Paper Mache Dream Balloon' are reissued as double albums on heavyweight 180 gram vinyl.
'I'm In Your Mind Fuzz' and 'Quarters!' are both cut at 45rpm while 'Paper Mache Dream Balloon'comes with an album of instrumentals. Each reissue includes a downloadable version of the album.
'Quarters!': "Like an old bone dug up by an even older dog, 'Quarters!' is decaying, stinky, flyblown, but still somehow… meaty… and tasty. It's wonky! It's wobbly! Warts 'n' all! The Gizzard Gator flies in,serenades you for 40:40 and is off in search of more flesh. 'Quarters!' is a woozy jam recorded to warped tape. Join the cult. Join the 'Quarters!' club."
---
Share this Product