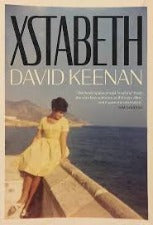 White Rabbit Books
David Keenan | Xstabeth
9781474617055
12/11/20
Softback
'This book spoke, it said "read me" from the very first sentence as if it were alive, it gave me visceral joy' Kim Gordon

'Reading [Xstabeth] feels like being cut open to the accompanying sound of ecstatic music' Edna O'Brien

'Prepare for more of that inimitable Keenan narrative voodoo brilliance' Wendy Erskine

In St Petersburg, Russia, Aneliya is torn between the love of her father and her father's best friend. Her father dreams of becoming a great musician but suffers with a naivete that means he will never be taken seriously. Her father's best friend has a penchant for vodka, strip clubs and moral philosophy.

When an angelic presence named Xstabeth enters their lives – a presence who simultaneously fulfils and disappears those she touches – Aneliya and her father's world is transformed.

Moving from Russia to St Andrews, Scotland, Xstabeth tackles the metaphysics of golf, the mindset of classic Russian novels and the power of art and music to re-wire reality. Charged with a consuming intensity and a torrential rhythm that pulses with music, it is an offering of transcendence and a love letter to the books of Chandler, Nabokov and Dostoevsky, by a writer who is rewriting the rulebook of contemporary fiction.
---
Share this Product