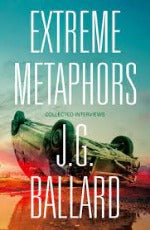 4thestate
J.G. Ballard | Extreme Metaphors
9780007454860
30/01/14
Soft back 
A startling and at times unsettlingly prescient collection of J. G. Ballard's greatest interviews.
J.G. Ballard was a literary giant. Best known for his controversial bestseller 'Crash' and the memoir 'Empire of the Sun', he was a writer of unique talent - always surprising, frequently prescient.
Such acuity was not exclusive to his novels and, as this book reminds us, Ballard's restive intelligence sharpened itself in dialogue. He entertained many with insights into the world as he saw it, and speculated, often correctly, about its future. Some of these observations earned Ballard an oracular reputation, and continue to yield an uncannily accurate commentary today.
'Extreme Metaphors' collects the finest interviews of his career. Conversations with Will Self, Jon Savage, Iain Sinclair and John Gray, and collaborators like David Cronenberg, are a reminder of his wit and humanity, testament to Ballard's profound worldliness as much as his otherworldly imagination. This collection is an indispensable tribute to one of recent history's most original thinkers.
---
Share this Product