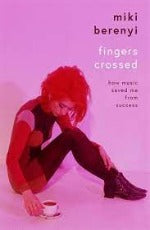 Nine Eight Books
Miki Berenyi | Fingers Crossed: How Music Saved Me From Success -Hardback
9781788705554
29/09/22
Hardback
Fingers Crossed is an incredible account of a trailblazing woman and a seminal band delivered with the vivid, emotional power of an accomplished storyteller. From the bohemian lifestyle of her Hungarian father's social circle to the privileged glamour of her Japanese mother's acting career, Miki's young life was a blur of international travel, celebrities and peripatetic schooling. Frequent relocation, parental neglect and the dark presence of her abusive Nazi grandmother resulted in crippling shyness, mental health problems and a vulnerability to exploitation. The route out was music – a passion shared by schoolmate Emma Anderson.
The teenagers began attending gigs together and would go on to form Lush in 1988. Talented and exuberant the band became hot property as they moved from pub gigs to Shoegaze icons and finally Britpop darlings. This uncompromising autobiography documents the excitement of playing live, the camaraderie of the gang, the thrill of signing to 4AD and the craziness of Lollapalooza.

But at the heart of the story are Miki's internal battles: the conflict between her mouthy public persona and her thin-skinned private identity; the trials of being a woman in an infuriatingly male world; and the struggle to find a middle ground between 'safe' indie obscurity and 'sell-out' international success. Miki also explores her complicated relationship with Emma – one that has fluctuated between camaraderie and rivalry over the years – and addresses the most devastating tragedy of all: the suicide of her best friend and soulmate, Lush drummer Chris Acland.
"The thought of writing my memoir seemed like a ridiculous idea when Pete Selby from Nine Eight Books approached me. But lockdown was looming, so I immersed myself in the task. As ever, just because I fell into it didn't mean that once faced with the job I didn't give it absolutely everything I had! Memory tends to prettify the past and reshape it into something more palatable, but digging through my diaries and photo albums and press clippings and tour itineraries brought back visceral experiences. I don't want to be a drama queen but reliving the 30-year span of this book… let's just say it's been emotional. The madcap ups and dysfunctional downs of my childhood and adolescence (London, Windsor, Hungary, Japan, Los Angeles) set me up for the chaos of being in a band and the eventual overkill of a changing music industry. My story is as much about a disrupted family life, a childhood in the 70s, an adolescence in the 80s, alienation, friendship, love, sex, self-destructiveness and optimism as it is about music – what it felt like, as much as what happened. There are shocking events – but it's not a misery memoir. Bad stuff happens to everyone and it's how you get through the crap that I find important – and interesting. I'm not documenting my life for people to gawp or wonder at, but inviting them in, to experience the highs and the lows, and feel what it was like to live through it." - Miki Berenyi
---
Share this Product