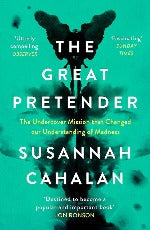 Canongate Books
Susannah Cahalan | The Great Pretender
9781838851446
21/07/20
Paperback 
'Destined to become a popular and important book' Jon Ronson
'Fascinating' Sunday Times

In the early 1970s, Stanford professor Dr Rosenhan conducted an experiment, sending sane patients into psychiatric wards; the result of which was a damning paper about psychiatric practises. The ripple effects of this paper helped bring the field of psychiatry to its knees, closing down institutions and changing mental health diagnosis forever.

But what if that ground-breaking and now-famous experiment was itself deeply flawed? And what does that mean for our understanding of mental illness today? These are the questions Susannah Cahalan asks in her completely engrossing investigation into this staggering case, where nothing is quite as it seems.
---
"People have asked me over the years: if they liked The Psychopath Test, what should they read next? I now have an answer. Susannah Cahalan's The Great Pretender is such an achievement. It's a wonderful look at the anti-psychiatry movement and a great adventure – gripping, investigative. It's destined to become a popular and important book"
JON RONSON
---
Share this Product