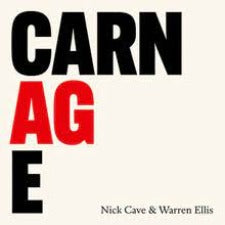 Goliath Records
Nick Cave & Warren Ellis | Carnage
BS021LP
18/06/21
Black vinyl
Includes booklet
Includes sticker sheet
Carnage is a new album by Nick Cave & Warren Ellis, recorded over a period of weeks during lockdown. Although the pair have composed & recorded many soundtracks together, and Ellis is a long-term member of The Bad Seeds, this is the first time they have released an entire album of songs as a duo.
Cave describes the album as "a brutal but very beautiful record nested in a communal catastrophe."
"Making Carnage was an accelerated process of intense creativity," says Ellis, "the eight songs were there in one form or another within the first two and a half days."
Cave & Ellis' sonic and lyrical adventurism continues apace on Carnage, an album that emerged almost by accident out of the downtime created by the long, anxious, global emergency. Carnage is a record for these uncertain times - one shot through with moments of distilled beauty and that resonates with an almost defiant sense of hope.
Cave and Ellis' creative chemistry is rooted in their long history of music making, both as collaborators and as individual artists. They first crossed paths in 1993, when Ellis played violin on several songs for the Nick Cave & The Bad Seeds album, Let Love In, before going on to join the band as a full time member. The two have also recorded as Grinderman, formed in 2006, and have composed and recorded numerous, film, TV and theatre soundtracks together.
Tracklisting
1. Hand of God 5' 17"
2. Old Time 5' 16"
3. Carnage 4' 47"
4. White Elephant 6' 08"
5. Albuquerque 3' 57"
6. Lavender Fields 4' 34"
7. Shattered Ground 5' 35"
8. Balcony Man 4' 30"

---
Share this Product