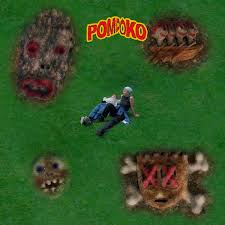 Bella Union
Pom Poko | Cheater - Clear Vinyl
BELLA110V
15/01/21
Limited edition 180g clear vinyl
Die-cut sleeve
Includes download code
"If you have a vacancy for Favourite New Band, Pom Poko would like to apply for the role," tweeted Tim Burgess in April, as Norway's finest punkpop anti-conformists revisited their joyous debut album, 'Birthday', for one of Tim's mood-lifting Twitter listening parties. Pom Poko pimp their CV on all fronts with their glorious second album, 'Cheater'. Between the quartet's sweet melodies, galvanic punky ructions and wild-at-art-rock eruptions, 'Cheater' is the sound of a band celebrating the binding extremes that make them so uniquely qualified to thrill: and, like Tim's listening party, to fulfil any need you might have for a pick-you-up.
As singer Ragnhild Fangel explains of the leap from 'Birthday' to 'Cheater', "I think it's very accurate to say that we wanted to embrace our extremes a bit more. In the production process I think we aimed more for some sort of contrast between the meticulously written and arranged songs and a more chaotic execution and recording, but also let ourselves explore the less frantic parts of the Pom Poko universe. I think both in the more extreme and painful way, and in the sweet and lovely way, this album is kind of amplified."
The sound of four distinct personalities driving in divergent directions towards one destination, the result is an evolved snapshot of the bracingly contrary chemistry forged when Fangel, Tonne, Jonas Krøvel (bass) and Ola Djupvik (drums) united to play punk during a jazz gig at a literature festival in Trondheim (the band-members studied jazz there).
Along the way, the band drew praise from NME, Interview Magazine, DIY, PopMatters, The Line Of Best Fit, The Independent and BBC Radio 6, where Miranda Sawyer was moved to note that "'Birthday's 'Crazy Energy Night' seems to contain about 20 songs in one." Meanwhile, a huge touring schedule included countless sold-out headline shows and a rapturously received UK jaunt with Ezra Furman.
'Cheater' does its predecessor proud on every front. Bursting with colour and wonky life from its cover art (by close collaborator Erlend Peder Kvam) outwards, it differs from 'Birthday' primarily in that its songs did not have a chance to be road-tested before going into the studio. But you wouldn't know it. As Ragnhild explains, "That meant we had to practice the songs in a more serious way, but it also meant the songs had more potential to change when we recorded them since we didn't have such a clear image of what each song should/could be as the last time."
---
Share this Product