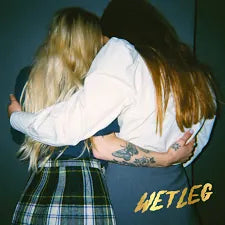 Domino
Wet Leg | Wet Leg - Yellow Vinyl
WIGLP496X
08/04/22
Limited edition indies-only transparent yellow vinyl
Includes download code
After releasing two of the best singles of the year, Wet Leg's Rhian Teasdale and Hester Chambers were catapulted from their confines on the Isle of Wight to sold out venues across the UK and packed-out tents at festivals causing giddy excitement wherever they went. Now, the duo are thrilled to unveil their debut album. The album is called 'Wet Leg'.
'Wet Leg' was recorded and produced in the main by Speedy Wunderground's Dan Carey ('Chaise Longue' and 'Angelica' were produced by Jon McMullen and Josh Mobaraki respectively). The album was mostly recorded in London, in April 2021, meaning they had a finished album before the world had even heard debut single 'Chaise Longue' or played live. "I guess how it happened was unconventional,"admits Hester.
Right from the start of 'Wet Leg', Teasdale and Chambers' focus was fun, and a dry sense of humour ripples through the album.
'Wet Leg' is sad music for party people, and party music for sad people.It is cathartic and joyful and punk and scuzzy and above all, it's fun.
---
Share this Product