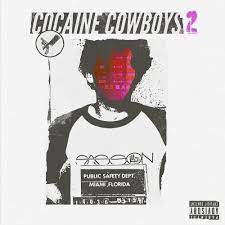 Air Vinyl
Benny The Butcher & 38 Spesh | Cocaine Cowboys Vol. 2
AV023LP
06/08/21
Black vinyl
Most fans of hardcore Hip-Hop know and love Benny The Butcher and 38 Spesh's 2018 joint album Stabbed & Shot, yet many aren't aware that before that there was Cocaine Cowboys.
The duo dropped this potent joint mixtape back in 2008. They split the project into two parts and added a couple hard-to-find bonus cuts for the vinyl release.
Plus, new alternate art by the one and only Manuel "Cep" Concepcion only available on this second edition re-release. Cocaine Cowboys 2 features a number of weight moving anthems like "Cocaine Wishes," "American Dopeboy, and Spesh and Benny's earliest collab with Conway The Machine, "Trapping."
This is a must have for TCF Music Group, Griselda Records, and BSF Records collectors.
A1. Trust Life A2. Loyalty A3. The Truth A4. Cocaine Wishes A5. We Got B1. American Dopeboy B2. Fuck The World B3. NY State B4. Trapping (feat. Conway The Machine)
---
Share this Product