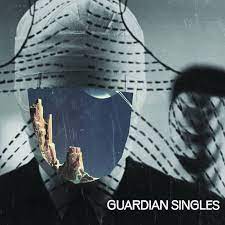 Trouble In MInd
Guardian Singles | Guardian Singles - Red Vinyl
TIM161LPC1
30/07/21
Limited edition red vinyl
RIYL: Husker Du, Rolling Blackouts Coastal Fever, Wipers, Blank Realm, Mission Of Burma, Flying Nun Records, RVG etc
Guardian Singles hail from Auckland, New Zealand, home to (among many things) storied label Flying Nun & just about every great indie band of the last century. After seeing the band's livestream from Auckland for Gonerfest 17 in fall of 2020, Trouble In Mind is honored to welcome the band to the roster & reissue their excellent 2020 self-titled album outside of New Zealand for the first time.
Formed in 2015, by Thom Burton on guitar (SoccerPractise, Moppy) and Fiona Campbell on drums (Vivian Girls, Coolies), the band hit the ground running, supporting touring bands in New Zealand like METZ, slots on the Chronophonium festival & tours in Australia. The band had recorded what would become their debut album in early 2018, simply as Campbell puts it "We just wanted good versions of the songs in our live set we were playing at the time." The addition of Yolanda Fagan on bass (Na Noise, Echo Ohs) and Durham Fenwick on lead guitar (Green Grove) solidified the current lineup in late-2018, and Auckland label Moral Support released it in a micro-edition of 150 copies in the spring of 2020.
The debut album packs a wallop; driving guitar lines dance across the rhythm sections propulsive throb hearkening back to greats like Mission of Burma, The Wipers & The Sound. Opener "Tea Lights Exploding" does just that, with an instantly memorable hook & sticky guitar line written as Burton explains as "a sort of "Fuck you" to a certain kind of pervasive rape culture and culturally lobotomized idea of masculinity that I was seeing too much of", followed by the moody "Being Alone". "Roll Undead" is next, with its persistent shuffle springing forth over a synth-siren before breaking open into an anthemic howl of a chorus. Side one closes with the crunchy stutter-step of "Never Gonna See The Rain Again".
Side two doesn't let up, with aptly-titled 3 opener "Can't Stop Moving"s ragged guitar sting hanging in the air before the band launches in with Campbell's drums skipping underneath like an arrhythmic heartbeat. Their vital cover of The Sound's "Heartbeat" (from 1980's "Jeopardy") is next, injecting a nouveau sense of modern urgency into Adrian Borland's post-punk rager. "Gold Plated Cars"s razor-wire sway comes next, with Burton & Fenwick's guitar squall waltzing over a robust bassline. Album closer "Midnight Swim" is the album's moody anthem, ratcheting up tension the old-fashioned way balancing jangle and drone with one guitar's persistent strum and the other's strategic punches, all while the rhythm section holds down a steady forward motion.
"Guardian Singles" is a vital document of a band breaking out of the chrysalis near-fully formed; melodic, urgent and on the verge of greatness. Look for more from the band soon as they head into the studio in 2021 to record the follow-up.
Tracks: 1. Tea Lights Exploding 2. Being Alone 3. Roll Undead 4. Never Gonna See The Rain Again 5. Can't Stop Moving 6. Heartland 7. Gold Plated Cars 8. Midnight Swim
---
Share this Product