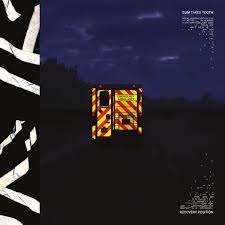 Wrong Speed Records
Gum Takes Tooth | Recovery Position - Yellow Vinyl
WSR032
14/03/23
Limited edition fluorescent yellow vinyl
In the throes of potential catastrophe, the challenge remains to navigate back from the brink. The method of reinventing oneself anew in the face of adversity.
Recovery Position marks this process for Gum Takes Tooth - a time when this ever-shifting and morphing entity sheds its skin once again, revealing a formidable new form. Marrying an unflinching beat-driven assault to a questing and transformative vision, Recovery Position - their fourth album - may represent a clean slate for Gum Takes Tooth, yet it's also driven by the same interpersonal and musical chemistry of its creators, Jussi Brightmore and Tom Fug.
Recalibrating their enmeshing of drums and electronics. they've landed on a propulsive binary-driven delivery that stubbornly eschews genre constraints and modes of comparison. The fresh approach began when the band began experimenting live, channeling the sparks from jam-driven spontaneity whilst also moving away from rock dynamics in favour of a more kaleidoscopic meld of ideas.
Nonetheless, Recovery Position maintains a clear affinity for the pulse-raising effect of the red dB meter or the rattle and rumble of a bass bin under duress. Thus was birthed the mutant quasi-trap protest music of opener 'Armistice', the industrial hyperpop aerobics of 'Small Arms' and the sci-fi handsin-the-air rave banger 'Octavian Eclipse' alike.
Recovery Position was not without its travails in the making, with the band's personal challenges and reinventions being somewhat more pronounced than those of their actual music - Jussi and Tom have traversed a full-scale emigration from the UK (in the case of Brightmore) along with battling serious illness, personal revelations and the attendant shockwaves and challenges of the Covid era.. Yet with the assistance of Wayne Adams at Bear Bites Horse studios in London, the duo have alchemically transcended their circumstances, channeling the personal and political into salvation by way of frequency overload and raw catharsis, a reanimated howl of the human regaining control over the machine.
True to form for this always quixotic outfit, what's emerged from the cocoon of the difficult last four years is their most singular and potent work to date - simultaneously their most pop-adjacent and their most extreme. A glorious collision of the idealism of rave adventures of yore and dreamlike visions of the future, Recovery Position is an audial landscape where psychic oppression is vanquished.
Track List:
1. Armistice 2.Trust This Least 3. Small Arms 4. Duress Imprint 5. A Healing Hell 6. Octavian Eclipse
---
Share this Product