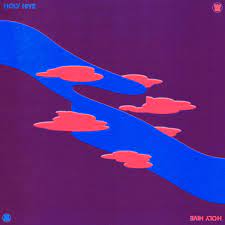 Big Crown
Holy Hive | Holy Hive - Splatter Vinyl
BCR114LPC2
11/02/22
Limited edition clear pink & blue splatter vinyl
Featuring musical contributions from Mary Lattimore, Robin Pecknold (Fleet Foxes), Anant Pradhan, Nick Movshon, Leon Michels (El Michels Affair), Shannon Wise (The Shacks), Dave Guy (The Roots), and Elliot Skinner.
In 2020 Brooklyn's Holy Hive introduced us all to something we didn't know we needed. Homer Steinweiss' thickly pocketed drumming paired with Paul Spring's thr-oaty falsetto vocal produces a sound that's like a salve. It's been dubbed Folk Soul and Holy Hive not only expertly overlay the more apparent musical aspects of folk and soul but they also draw from the more profound: being able to pull traditions from the past and make them their own.
When Homer wasn't playing drums for Lady Gaga or Adele or Bruno Mars, he'd produce Paul's solo folk records. Along with original bassist and frequent collaborator Joe Harrison, these sessions proved to be Holy Hive's foundation. And their first record, Float Back to You, expertly combined what each musician does best: Paul's heady, reflective approach to folk with Homer's universal classic soul sound.
With their new record released on Big Crown, Holy Hive's beautifully simple-and-sparse Folk Soul sound is back but updated. With new influences and the challenge of creating and capturing music during a global pandemic, this new self-titled album, is more personal, more reflective.
The first single off of Holy Hive, "I Don't Envy Yesterdays," picks up right where Homer and Paul left off. The song weighs the question of time and the human condition a deeply thoughtful and typically tricky subject but in a light, almost easy-breezy way. Homer's drumming provides the song a space, a kind of breathing room.
Written in the Yucca Valley desert before the world broke in 2020, it's no wonder Paul's voice drifts and darts on top of it all like a heat shimmer. They describe three distinct phases when piecing together Holy Hive: this first stage was pre-pandemic in California while traveling as a group, then like the rest of us they were separated, creating together but apart, and lastly an explosion of output once they reunited in New York.
There is a natural but subtle evolution for Holy Hive on this record. Homer and Paul drew from new and maybe more 3 obscure-yet-honest influences. It's still very much Folk Soul how could it not be. But, like all artists, they've taken in what they've made and how they've made it, only to push it into new places. We know of Holy Hive's ability to lyrically convey the abstract and complex in poetic and palatable ways. But where the first record was soulfully silver-tongued with chill songs about love and affection, Holy Hive widens the lens with these novel influences, reflecting the points both Homer and Paul are in their own lives.
"We put the utmost importance on having lyrics that mean something to us," Homer explains. "A lot of the songs on the first record were fun, but could be kind of surface. On this record, we wanted to be more personal—we wanted to write more about life."
---
Share this Product