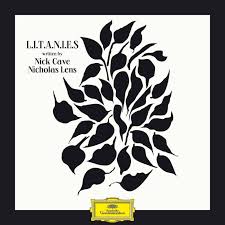 Deutsche Grammaphon
Nick Cave & Nicholas Lens | L.I.T.A.N.I.E.S
4839746
04/12/20
Limited edition gatefold double black vinyl
Perhaps best-known for his distinctive vocal style, Australian polymath Nick Cave here steps into the spotlight as librettist rather than performer, for a second operatic project with Belgian composer Nicholas Lens.
Having collaborated on Shell Shock in 2014, they joined forces again during the global lockdown to create a new work, L.I.T.A.N.I.E.S.
At Lens's request, Cave penned 12 litanies – "petitions to a divine maker" – simple, moving texts which the composer then wove into what he calls a "modest chamber opera of sleeping dreams". Riding his bike around an unusually empty Brussels, Lens had been reminded of the magical stillness of the Rinzai Zen temples he had seen in rural Japan. Memories of these structures and of the inner peace he experienced while visiting them were the initial inspiration for the minimalistic, at times trance-like music of L.I.T.A.N.I.E.S., which features Denzil Delaere, N.L. Noorenbergh, Claron McFadden and Lens's artist daughter Clara-Lane on vocals.
---
Share this Product