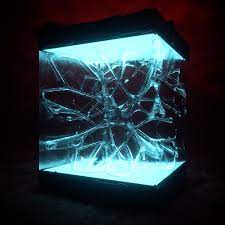 Houndstooth
SCALPING | Void - White Vinyl
HTH157
29/04/22
Limited edition gatefold white vinyl
Bristol techno, noise and hardcore supremos SCALPING are releasing their highly anticipated debut album 'Void'.
'Void' comes on the heels of an extremely exciting 2021 for the band,which saw them play to sold-out crowds at the Roundhouse twice in two weeks - both on tour with Squarepusher and at Pitchfork Festival London - as well as releasing two widely acclaimed EPs titled 'FLOOD' and 'FLOOD Remixed', the latter of which featured treatments from producers Hodge, Azu Tiwaline, object blue, AQXDM and Laurel Halo and Scottish instrumental rock legends Mogwai.
SCALPING are heavy metal in 4D; the sound is moody, distorted and rhythmic, but the use of electronic techniques gives the finer details room to breathe, making more space for experimentation.
Tracks such as 'Tether', featuring Oakland rapper DÆMON, puts a modern, metal twist on Bristolian trip-hop, whereas album closer 'Remain in Statis' features fast-rising artist Grove, a Bristol-based rapper and self-professed metalhead whose commanding presence sets the track alight.
In the heat and darkness, it's a swarm of low-end frequencies and ripping guitars, somewhere between Black Sabbath-esque psychedelica and The Bug's sub-bass headfuckery. Live, the effect is immense. SCALPING play continuously for the duration of their sets, generating a storm of metal-and-techno through a rising beats-per-minute count.
'Void' will be put to the test, as the band kicks off an eight-date UK headline tour, culminating in a live performance at fabric on May 5th. As live shows return in 2022, SCALPING will continue to prove themselves as one of the UK's most impressive, ambitious, and original new live bands.
---
Share this Product