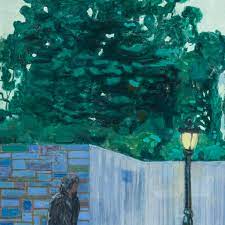 ATO Records
The Murlocs | Rapscallion - Sardine Bath Edition
ATO0604LP
16/09/22
Limited edition 'Sardine Bath Edition Light Blue & Milky Clear Galaxy' vinyl. I shit you not.
Includes download code
 Hailing from Melbourne, 60's tinged psych-rock punks The Murlocs announce their brand new studio album,'Rapscallion', due out on ATO Records.
Strapped with fuzzy guitar licks, feverish bass and psychedelic brightness, the 12-track collection is a coming of-age novel in an album form. The wildly squalid odyssey populated by an outrageous cast of misfit characters -teenage vagabonds and small-time criminals, junkyard dwellers and truck-stop transients - is partly inspired by frontman Ambrose Kenny-Smith's own adolescence as a nomadic skate kid. Their most magnificently heavy work yet,the result is an endlessly enthralling album equally steeped in danger and delirium and the wide-eyed romanticism of youth.
Self-produced by the band in the early stages of the pandemic, Rapscallion was recorded remotely in the home studios of Kenny-Smith (vocals, guitar, harmonica), Callum Shortal (guitar), Matt Blach (drums), Cook Craig (bass) and Tim Karmouche (keys). A truly dynamic musical collective, all five members also perform in other bands: Kenny-Smith and Craig each play in the globally beloved King Gizzard & Wizard, Shortal plays guitar in ORB, and Karmouche and Blach are frontmen for Crepes and Beans respectively.
In a departure from the effusive garage-rock of 2021's'Bittersweet Demons', 'Rapscallion''s musical DNA contains strains of stoner metal and the more primitive edge of post punk. Despite that darker and more formidable sound, The Murlocs instil every track with the freewheeling energy they've brought to the stage while supporting such acts as Pixies, Stephen Malkmus and The Jicks, Ty Segall and Thee Oh Sees.
Tracklisting
Subsidiary
Bellarine Ballerina
Living Under a Rock
Bobbing And Weaving
Farewell To Clemency
Compos Mentis
The Royal Vagabond
Virgin Criminal
Bowlegged Beautiful
Wickr Man
The Ballad Of Peggy Mae
Growing Pains
---
Share this Product