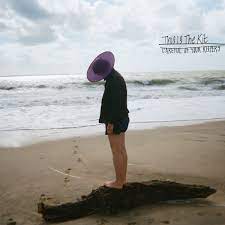 Rough Trade
This Is The Kit | Careful Of Your Keepers - Green Vinyl
RT0414LPE
09/06/23
Limited edition indies-only green vinyl
This Is The Kit, the group led by Paris-based bandleader Kate Stables, announce their new album, 'Careful Of Your Keepers', produced by Gruff Rhys (Super Furry Animals).
The album's propulsive yet introspective lead single, 'Inside Outside', finds Stables as magnetic as ever, joined once again by her stalwart band of Rozi Plain (bass /vocals), Neil Smith (guitar) and Jamie Whitby-Coles (drums), accented by a cascading horn quartet arrangement by Jesse Vernon. 
'Careful Of Your Keepers' is daring and soft, cutting and warm - a wild feat of complexity and combined dispositions. There's a shared language of the band's family experience that is as audible as ever in these recordings, which boast beautiful instrumental performances that still leave the nuanced space required for Stables' vocals to live at the forefront.
"The album was nearly called 'Goodbye Bite'. And in a way it still is, "says Stables."I went for 'Careful Of Your Keepers' in the end. It's one of my favourite songs on the album, a song that for me holds the general feeling of the album as a whole. The fragility of things. Of situations. Of relationships. Of humans. What we do to look after each other and ourselves. The passing of time and what that does to us, and how we live our lives going forward."
Guiding the ship through changing seas is producer Gruff Rhys. Stables described his role as being a 'tone setter', watchful and attentive to the band dynamics while making sure to always follow a hunch for where a new sound could find its place in the recording. "I've always loved the idea of working with him somehow, and when this album started getting planned, I realized that maybe this was my chance to reach out and see if he was up for working together," Stables explains. "And he was! As if that wasn't enough, he was also up for doing a bit of singing on the record, which totally blew my mind and made my year. His way with harmony and melody and the tone and quality of his voice is a totally killer combo."
"They are so ridiculously talented - and every member is a great producer in their own right - so it was just a matter of trying to capture the magic they make when playing live together," Rhys says of the recording process. "Their playing is by default so thoughtful and complimentary in terms of respect to each other's parts and to the integrity of the songs themselves that it creates a beautiful foundation of often cosmic interplay that's always in aid of Kate's voice and vision as a songwriter."
Tracklisting
Goodbye Bite
Inside Outside
Take You To Sleep
More Change
This is When The Sky Gets Big
Scabby Head and Legs
Careful of Your Keepers
Doomed Or More Doomed
Stuck in a Room
Dibs
---
Share this Product