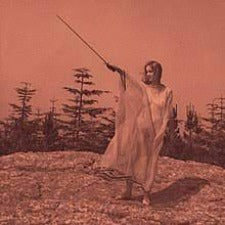 Jagjaguwar
Unknown Mortal Orchestra | II - 10th Anniversary Edition
JAG232DLX
17/11/23
Limited edition 10th Anniversary 'Aluminum' double vinyl
 Unknown Mortal Orchestra came to life in basements and bedrooms, the musical vision of Portlander-via-New Zealand Ruban Nielson that fused guitar god riffs, choppy percussion, soul and funk.
'II', the sophomore album from Unknown Mortal Orchestra, emerged in an era rampant hedonism and isolationism and became the blueprint for everything Nielson has become renowned for. It was, and is, the solidification of Unknown Mortal Orchestra as an endlessly intriguing, brave and addictive band. Ten years on, it's back with an expanded edition.
Written during a punishing, debauched touring schedule during which Nielson feared for both his sanity and health, 'II' illustrates the emotional turmoil of life on the road, painting surrealist, cartoonish portraits of loneliness, love and despair. These conflicting themes are evident immediately; on the album's sleeve is an unnerving image of Janet Farrar, the famous British witch, Wiccan, author and teacher of witchcraft.
The chilling refrain of opener 'Into The Sun' sees Nielson deliver the line"Isolation can put a gun in your hand," softly, his words starkly intelligible above a warm, slow-burning melody that quickly brands itself onto your brain. His playful imagery ("I'm so lonely I've gotta eat my popcorn all alone")mirrors the melody, before a solo that borders on psychotropic ends 'II''s introduction.
Unknown Mortal Orchestra are unafraid to dig deeper than the rest, their intoxicating, opiate groove bringing rock & roll's exaggerated myths to life. And as it unfolds, 'II' does find Nielson reenergized. 'One At A Time' and'Faded In The Morning' boast dizzying choruses and instrumentals; these crusty hunks could have been excavated from a lost 1960s treasure trove. 'Monki' unravels over seven minutes like the yarn from a stoner's cardigan with an eye-frying pattern. 'Dawn' is a minute of disconcerting noise that stands out between the nooks and crannies of the choruses, guitar solos, groove-heavy bass and drums that were recorded live by newly recruited drummer Greg Rogove and Kody Nielson in a move away from the electronic percussion employed on album one. 'II' closes with 'Secret Xtians', a tender observational puzzle that fizzes to a satisfied end.
In celebration of the album's 10th anniversary, Nielson's complete collection from the 'II' era is finally available in one compilation, and features the five acoustic tracks from the 'Blue' EP as well as two additional B-sides.Unknown Mortal Orchestra was once Nielson's closeted concern. With an album that uses his singular musical imagination and extraordinary talent to parade his emotions with unyielding honesty, it is now a fully realized band operating at the peak of its powers ten years on.
Tracklisting
From The Sun
Swim and Sleep (Like a
Shark)
So Good At Being In
Trouble
One At A Time
The Opposite of Afternoon
No Need For a Leader
Monki
Dawn
Faded in the Morning
Secret Xtians
Swim and Sleep (Like a
Shark)
Faded in the Morning
So Good At Being In
Trouble
Swing Lo Magellan
Puttin' It Down
Two Generations of
Excess
Waves of Confidence
---
Share this Product